Did you know that you can donate to your favorite charity simply by shopping on Amazon? It's true! Amazon Smile is a program through Amazon.com that allows customers to donate 0.5% of their purchase price to the charity of their choice. Wounded Paw Project is a registered charity with Amazon Smile, so it's easy for you to donate and help us continue our work to give a voice to the voiceless! In this blog post, we will provide step-by-step instructions on how to sign up for Amazon Smile and how you can donate to Wounded Paw Project every time you shop! We hope you'll consider donating today!
A Deeper Look at Amazon Smile
Amazon Smile is a program created by Amazon to encourage giving. Amazon customers can choose from over one million charities to donate their 0.50% eligible purchase price to, including Wounded Paw Project!
If you are like most Americans chances are you are already shopping on Amazon for all of your needs, so why not help raise money for charity while you are doing it?
How Does it Work?
When you shop at AmazonSmile (smile.amazon.com), the same products, prices, and shopping experience are available as Amazon.com, with the added bonus that Amazon will donate a portion of the purchase price to your favorite charity! You can choose Wounded Paw Project as your designated charity, and then every eligible purchase you make will result in a donation. It's that easy!
There is no cost to you as a customer and 100% of the donation that is generated from eligible purchases goes to the charity you choose! It is an effortless way to give back!
Signing up for Amazon Smile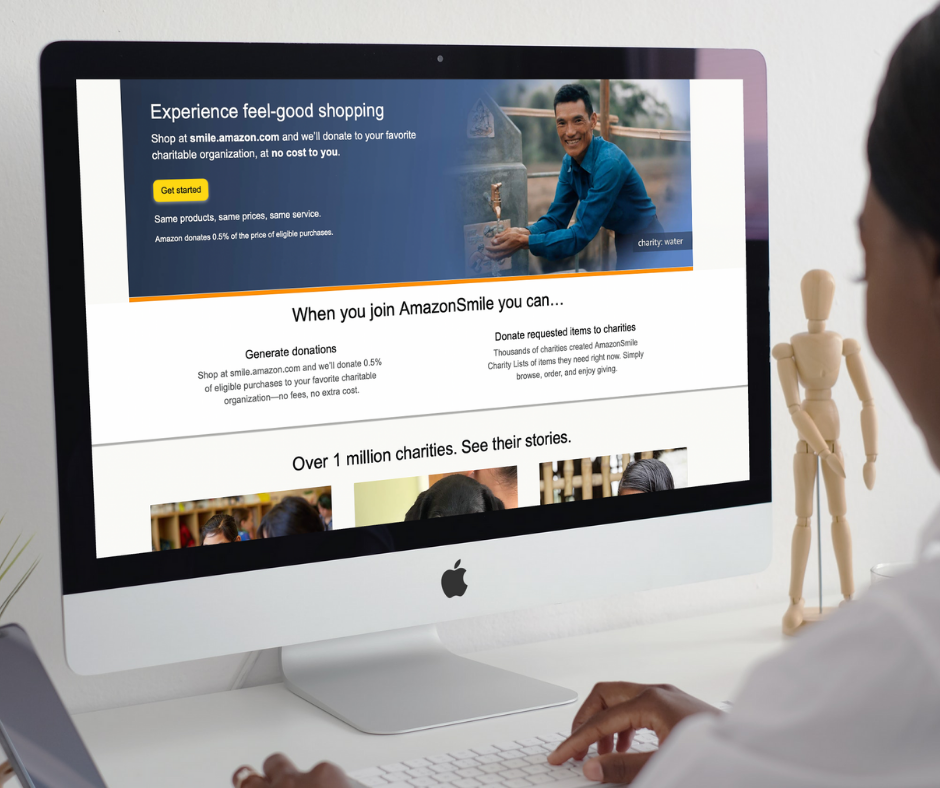 Setting up your profile is easy! Go to smile.amazon.com and click the "Get Started" button. If you already have an Amazon account, it will prompt you to sign in, or if you don't, to sign up for one (it doesn't cost anything to set up a basic Amazon account).
If you are a Prime member all of your prime benefits are still available for you!
Choosing Your Charity
Once you are signed in, you will be asked to choose your charity. Type in "Wounded Paw Project" (or the charity of your choice) and hit search. Wounded Paw Project should be the first result that comes up! Once you click select, a percentage of your purchase. Then you are all set and ready to start shopping and donating simultaneously! Amazon Smile will remember your charity and make sure to apply all eligible purchases towards your total contribution.
What Items are Eligible for Donations
There are millions of items available for you to purchase that will generate a donation, but there are also certain items that are not included. For example, digital content such as Kindle books, Amazon Music subscriptions, and apps are not currently eligible for donations.
Using Amazon Smile on a Computer
If you are shopping on a computer, simply go to smile.amazon.com and sign in with your Amazon account information. You can also bookmark this page so that you don't have to search for it every time you want to shop! After that, you will then shop like normal!
Using Amazon Smile on a Phone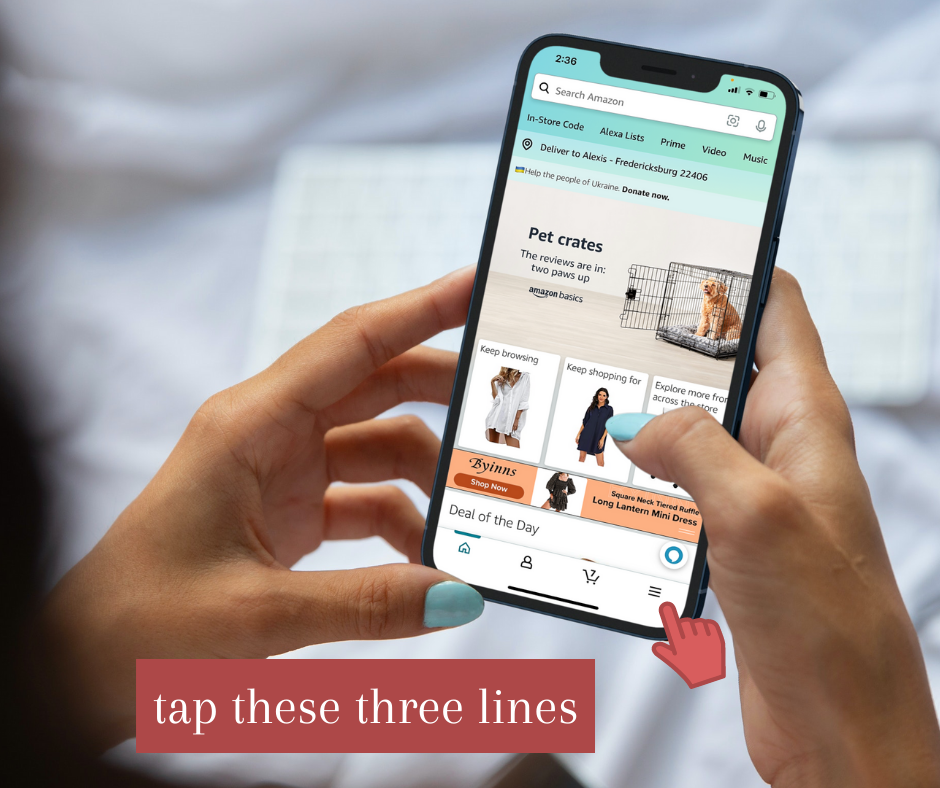 If you are trying to use Amazon Smile on your phone, the process is a little different. You will need to download the Amazon Shopping App and sign in with your Amazon account information if you haven't already.
Open the app and go to "Settings" and then select "Amazon Smile" under Programs & Features. Turn on Amazon Smile and then select your charity (Wounded Paw Project).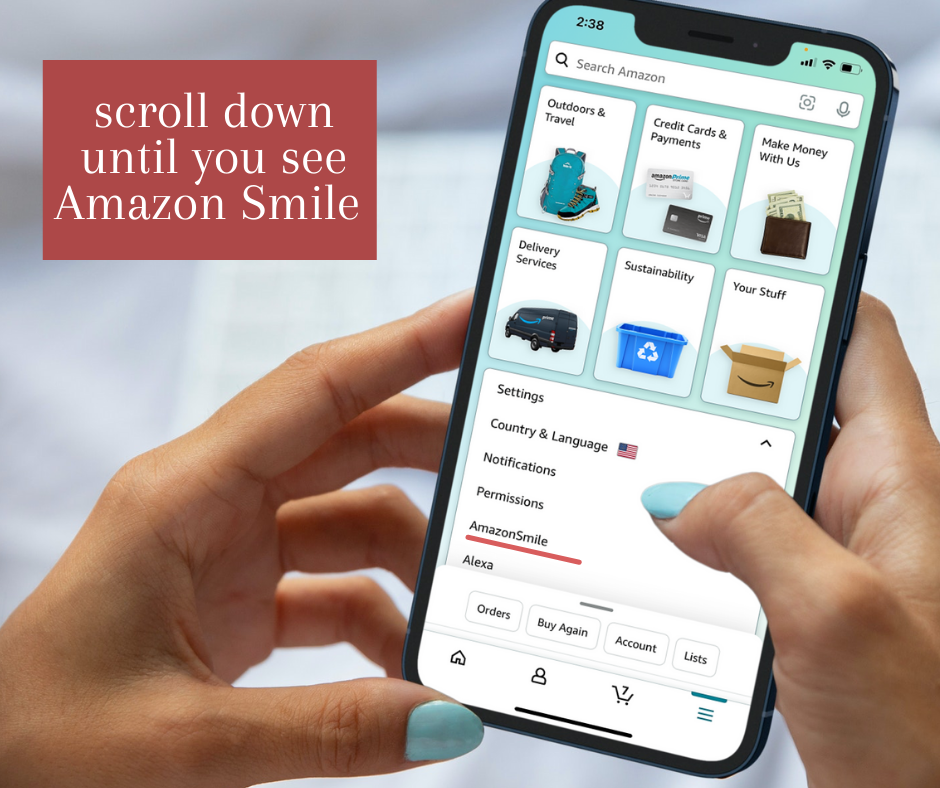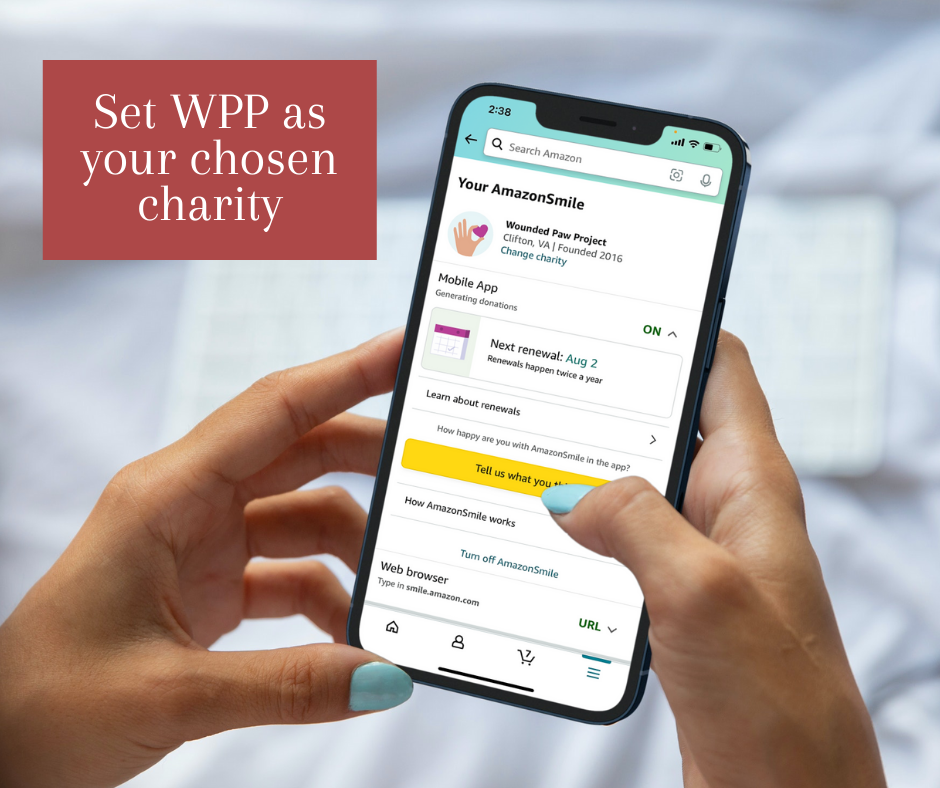 Amazon Smile FAQs
We promise it is as easy as it sounds, but we are sure you have some questions. Here are some answers to the most commonly asked questions about the program!
How much of my purchase price does Amazon donate?
The donation amount is 0.50% of the eligible purchase price and does not include applicable taxes or shipping fees.
Can I receive a tax deduction for amounts donated from my purchases on Amazon?
Amazon makes donations to Wounded Paw Project, and no tax deduction is available for you as the shopper.
How does Wounded Paw Project Recieve the Donations?
The donation is automatically transferred from Amazon to Wounded Paw Project!
Donate to Wounded Paw Project through Amazon Smile!
It's super easy to donate to your favorite charity through Amazon Smile and our team would be honored for you to choose Wounded Paw Project to receive these donations! All you have to do is sign up for an account, select Wounded Paw Project as your designated charity, and start shopping! Every eligible purchase you make will result in a donation, at no cost to you!
With what we do at WPP, every little bit donated counts and helps provide a voice to the voiceless! Thank you for your continued support as we work to bring an end to Breed Specific Legislation, Dogfighting, Animal Sacrifice, and other forms of Animal Abuse.