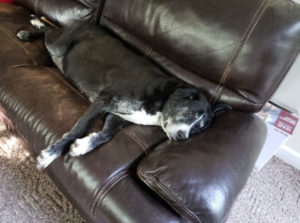 Daisy now retired is the founder of Wounded Paw Project. However, still makes guest appearance and available for PAWgraphs.
I really don't have an interesting story as my young humans adopted me from a pet store during a pet adoption fair. I wasn't looking for a family, as I was happy with my foster. She and I would watch football while eating carrots with ranch dressing – yummy. I enjoyed watching the Washington Redskins, but tell my humans since they are all originally from Texas.
I grew up with three brothers and two sisters with me and they all wanted to be adopted. I just sat in the back of the cage and slept the days and nights away. I lived with my foster mom and her boyfriend during the week. On the weekends, I was at the pet store up for adoption. One day, this one family, a lady and two young boys, wanted to see me. They played with me for a bit, then left which made me sad because deep down inside I wanted this thing called a "forever home". They retuned and told the rescue that they wanted me. So, my foster had to make a home visit to make sure that I would be safe. I took the challenge to move in with them.
At my new home there was a male military human. I saw him sometimes since he was always gone to places called Iraq, Middle-East, Mexico, and many other dangerous places. I didn't really miss him, since I had the boys to play with and they fed me their leftovers. But we didn't tell the grown lady.
The [then] little humans were very playful and affectionate. However, they were always trying to pick me up and would argue who's bed I would sleep in that night – I liked it. They are very entertaining to watch and would take me camping, hiking, car rides, sport practices. I went into a hot tub in the winter at a cabin in the mountains – I didn't like it. However, I did like the warm milk afterwards.
Let me talk about my military human. He was in the Air Force. He wore combat gear or a civilian suit – which I didn't understand why? I would sniff his big green bags full of combat gear looking for a treat; then he would be gone.
I understand that on March 26, 2008 the skies opened up with metal falling from the heavens in the form of Rockets and Mortars. Raining hell on their forward operating base. On that day military humans were being slaughtered and my military human and an Army officer began grabbing and throwing bodies into a makeshift bunker – which was actually an upside-down concrete drainage and more like their coffin.
As the metal continued to pour on my and the Army human. They made their peace to cross into the "Rainbow Bridge". So, they used their bodies to protect the occupants of the bunker at each opening. Obliging their military creed of "Service before Self". They were both hit, shrapnel enter their bodies, and some other medical terms that I really don't understand. Many people were injured and some came back on an angel flights to be laid to rest. They both were patched up and able to finish their deployment.
When he returned back home, he didn't talk about the incident. However, I remember he was in much pain and wasn't able to walk. He went to numerous doctors' appointments and was angry due to the constant hurt. I tried to help him, but he refused and didn't want anyone near him. But one day, I saw how hard it was for him just to get out of bed. I gave him my tug toy, so I could help him get out of bed. He first didn't get it and I think he used some colorful words for me to stop. But I wasn't going to let him down and I was determined to train him to use the tug toy so I could pull him [slowly] out of bed. After, a few times he finally got it. I wish I had a treat to give him. I assisted him with other tasking, but I think what he really needed is someone who wasn't human to help him heal without judgment, medication, or labeling. He gives me credit for healing him, but we actually saved each other.
Over the years we have helped countless veterans and their families. Wounded Paw Project is proof that you don't have to have purebred. I love all dogs [and even cats], but shelters dogs are being euthanized by the thousands daily.
I am now retired, but you will catch me in the D.C. area advocating for my brother and sister who need their furever home.
Please Adopt and Don't Shop!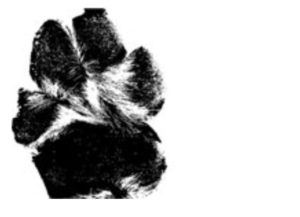 Daisy "Rainbow" Hernandez
Founder, and Emotional Support Dog
Wounded Paw Project
P.S. I'm on the left with my sister Rosie on the right, and my two boys.